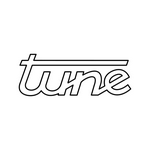 Updated by tune
Warranty conditions
Introduction
In addition to the statutory warranty, tune GmbH grants a voluntary warranty on its components. The following article describes the warranty conditions and informs about the procedure to claim a warranty case.
Conditions
The following condtions apply for our warranty program:
Starting from the date of purchase tune GmbH grants a 2 year warranty on material- and manufacturing defects. Wear parts like e.g. bearings, parts of drive mechanisms or brake pads are not covered by this warranty.
Warranty claims are only valid if a copy of the original purchase invoice from an authorized tune dealer is shown. Warranty can only be claimed by the original owner.
The invoice has to contain the following information:

Name and address of the buyer
Name and address of the seller
Date of purchase
Article number and description of the product
Selling price

The first point of contact for warranty claims is the dealer that sold the product.
Certain circumstances void the warranty! Please read the following exclusion criteria carefully!
The warranty does no apply...
for the wear of wear parts.
for improper use or careless treatment.
in case of failure to comply with the product instructions
in case of improper repair, assembly or maintenance.
if defects occured due to the use of non-original spare parts.
for defects resulting from improper lacing (lacing pattern, spoke crossing, spoke tension, exceeding torque values etc.)
if serial numbers have been removed or altered.
for colour deviations or faded anodizing on components. Anodized components can fade under UV-exposure.
Warranty claims will be clarified at the tune GmbH location in Buggingen, Germany and are subject to the discretion of tune GmbH. tune GmbH is not liable for damages under this warranty, especially not for indirect accidental damages, indirect damages and consequential damages.
Procedure
Please follow this procedure to claim a warranty case for a defective component:
Create a service ticket on our website. Please add all relevant information like date of purchase, invoice copy and pictures of the defect. Don't forget to add your address for the return shipment!
We will process your ticket and decide about further measures to resolve your problem.
In most warranty cases the component has to be examined at our facility. You will receive our service address to ship the component to us.
After your component arrives at our facility we will examine the part and find a solution with you as soon as possible.
Shipments that are not linked to an existing service ticket will be sent back at the recipients cost and will not be processed!